Hello everyone!
I have like a ton of folkloric related stuff to put in here, but somehow I don ot get myself to finish any of the pieces… And I don't really want to put just the sketches. But I keep on drawing those things, all the time, also as a part of my researches, so they will come at some point.
I guess you will have to be patient with me; I am incredibly busy lately with my paper.
However, in the meantime you can enjoy other kind of things from me.
I was asked for some
My Little Pony
stuff.
I have quite a few of them around but I'll have to look for them bit so you might get some random updates with old pony pics at some point. Today I'm showing you three of my ponies; the first two are part of a bunch of designs I did as a present for some of my friends in 2008. They are supposed to portray how my friends would be if they were ponies (aand it seems I hit the bull's eye with most of them). I put them on a bookmark shaped background with a blank profile –inspired on the profile included at the MLP toy's boxes - which my friends got to fill as they liked.
* The first one was named
Mushelmet
and it belongs to my friend
Julie
.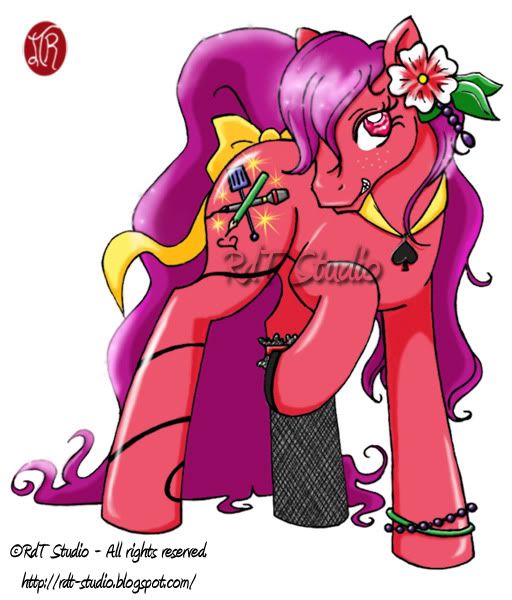 It's made stylized, flashing and fancy, with lots of complements, because that's the way a pony for Julie must be. A kind of pony which must simply fit as Ponyville's idol singer or something similar.
-
References
: this pony was designed looking after the Sweetheart Sister Ponies (year 7) and, maybe, a bit on the Prom Queen Sweetheart Sister ones (year 8) ones too: looong legs, small noses, symbol covering the leg (even though the kind of symbol has nothing to do with them and that I didn't include the glitter), ear ornament, various complements, etc.
It could be said that the eyes are inspired by the Twinkle Eyed ponies of the year 5, but it would be more sincere to say that the cartoon pony Fizzy is the main responsible of it
* This second one was named
Apple
and it belongs to my friend
Amber
.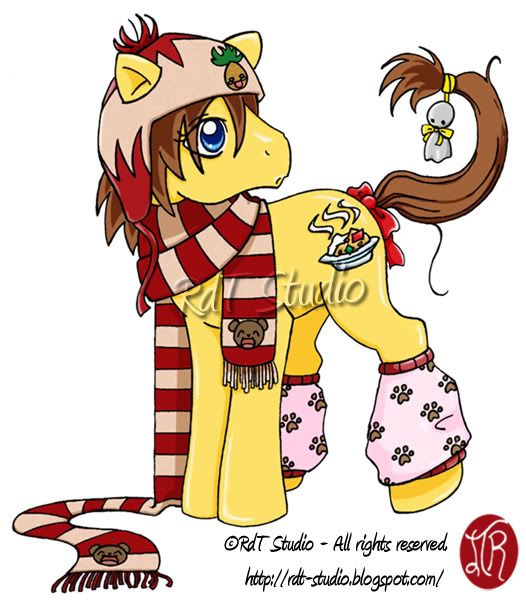 Probably one of the cutest I have ever drawn; my sister said it looked like an ice-cream.
-
References
: Inspired on the Sunday Best ponies (year 6) for symbol style (except that this one goes for curry), and the Playtime Baby Brother Ponies (year 7) for body style and accessories.
And a goodie for you!
Inspired on the former presents, this March I drew a new pony present for my friend Edu, who once suggested me that he would like to have a pony of his own… only that he wanted it to be a donkey! The thought was so cute that I couldn't let it go to waste. It was hard thought, because all my sketeches on it came out so incredibly cute (donkeys are
that
cute) that they didn't match my friends character at all. Yet, I think I found my way out of it nicely and the donkey looks a lot like him.
I am still waiting for the full donkey profile so it still lacks of name.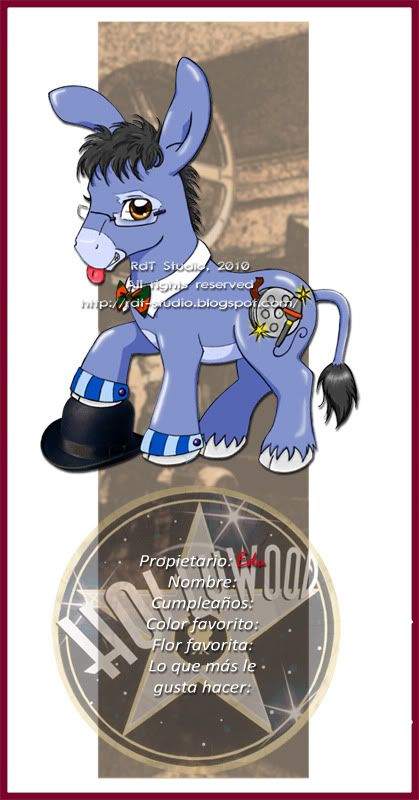 Just like my friend, this is a showman pony with, I am sure you ca ntell, a fancy for classics.
-
References
: The G3 body dimension was pretty useful here but I also looked after the Big Bother Ponies from ears 5 and 6 (quite a simple design but with heads slightly bigger than the regular ponies to the date, hairy hoof and a few accessories). Also the Pony Friends (year 5) and the New Pony Friends (year 6), for non-pony but related official merchandise.
---
Art © me
Character's design © me
My Little Pony © Hasbro
My friends who inspired the ponies here © themselves
.