ESPAÑOL:

Segunda parte del boceto anterior (aunque están dibujados en el mismo papel). Resulta sorprendente que pertenezcan al mismo relieve, pero ese contraste es en parte la razón que me impulsó a dibujarlos.



ENGLISH:

Second part of the previous sketch (even though they are drawn on the same paper). It is very surprising that they belong to the same relief, but that contrast is part of the reason I decided to sketch them.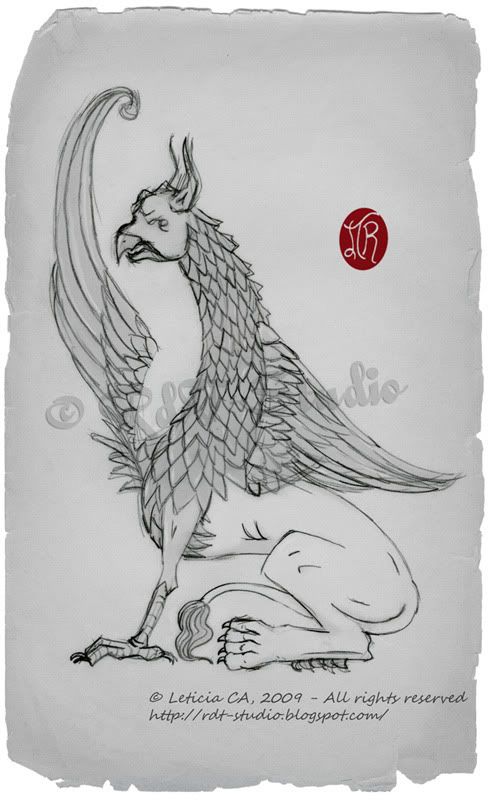 Este grifo me resultó muy interesante por lo poco convencional de sus elementos y el cómo esto contrasta con el grifo de la derecha.
Frente al otro grifo, éste resulta más tosco y, de alguna manera, reptiliano. La melena es sustituida por escamas o plumas esquematizadas y la cara es mucho más nudosa, con el pico curvo… más como un buitre que un águila; la cola queda vuelta hacia abajo y sus alas son más estrechas. El conjunto da una impresión mucho más agresiva que majestuosa, y la mirada, ligeramente vuelta hacia el espectador, resulta amenazadora.



I found this gryphon to be interesting because of how unusual it is characterized and the contrast that makes with the gryphon at the right.
Opposite to the first gryphon, this one looks less elaborated and somehow reptilian. The mane is changed into scales or figurate feathers and the face is kind of knotty, with a curved beak more alike to vultures than to eagle; the tail is turned down and the wings are narrower. The whole gives an aggressive feelings the opposes to the majesty of the first one, and its glare, slightly turned towards the observer, looks menacing.